Go play golf
and try to win many – very nice! – giveaways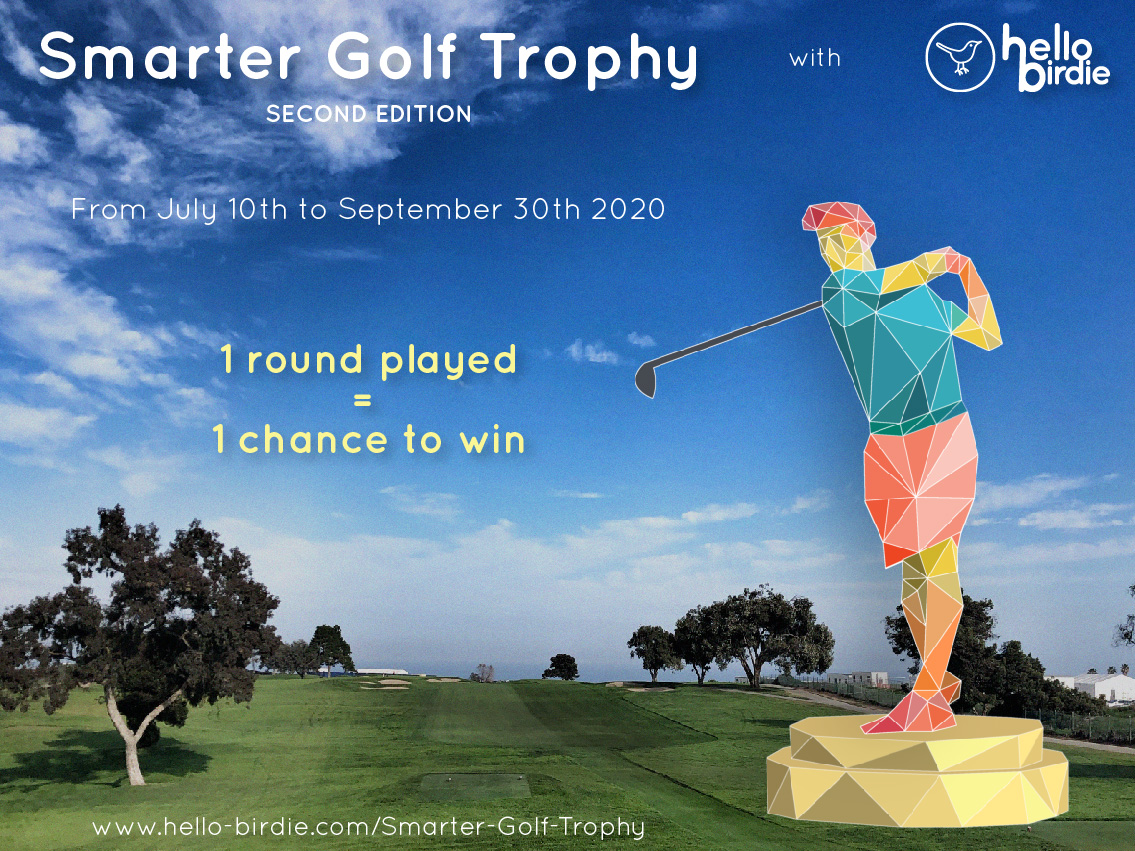 You would like to play golf anywhere, with anyone, or even playing alone and at any time? And in addition, you would like to get rewarded for your perseverance in golf:
This competition is open from anywhere in the world! You will be able to appreciate golf during your vacation or even alone if you have decided to spend your time on the golf courses in your neighborhoods to enhance your swing.
It's completely free: No entrance fee for this competition, and you can play as many times as you want.
This contest is made for you!
How does it work?
You only need to play golf and track your score using Hello Birdie Golf app and digitally sign it at the end of your game. Not only, the app provides you with this feature for free, but you can also get the satellites maps, GPS distances, as well as your game statistics. It is worth a try!

Each signed scorecard by the end of september (until Wednesday 30th September) is considered and provides an additional chance to win in the draw.
>> Download Hello Birdie (for iPhone and Apple Watch)
>> Discover the rules of the game
What can you win?
This is a friendly competition, your HCP won't be impacted, but we have approximatively 15,000 USD – 12,000 GBP of giveaways for you. Some of them will make you want to play even more golf!
For example:
a round of golf for 4 players on the Albatros course at Le Golf National, host of the former Ryder cup, including the night at Novotel Hotel,
12x full day of golf and strategic experience near Paris to share with a friend animated by:

Charles Dubois – European Tour caddie – on a UGolf course near Paris: Cély, Coudray-Montceaux, Courson, Rochefort,
Ilya Goroneskoul – coach and consultant – at Golf Hôtel*** of Montgriffon,
Julien Grillon – teaching pro – at Golf Isabella,

A superb electric trolley made of Stainless steel with refined design,
Numerous clubs, balls and a bag from Cleveland and Srixon
Several stays in a luxury Resort with green-fees selected by Premium Golf Club near the city of Cannes or Bordeaux
A private visit in Hubert Privé's Showroom (France) with the artist himself, art books and pieces of art offered by "Golf en Privé".

Hint: double your chances to win!
Hello Birdie Golf app also provides an additional service: the virtual caddie, to help you perform better by providing you the best strategy to play in order to reach a goal.
During this competition, every signed card with the virtual caddie will count as 2x in the draw!
A free trial (cancel anytime) is available in order to discover this service. It's time to try it to maximize your chances to win the draw!
>> Learn everything about the virtual caddie
>> Download Hello Birdie (for iPhone and Apple Watch)
---
Quick links:
>> List of winners
>> Giveaways and partners
>> Rules of the game
>> The virtual caddie
>> Download Hello Birdie (for iPhone and Apple Watch)
golfer's logo Designed by Freepik