Back on Tiger Woods' change of strategy in Torrey Pines: 
More than a decade ago, the golfing world was witnessing an unprecedented turnaround. Tiger Woods won the playoffs against Rocco Mediate at Torrey Pines on a crazy day. After a chaotic start (+3 in 2 holes), Tiger stabilized his card between E and +1. This was done with an alternance of birdies, pars and bogeys. At the 18th hole, a Par 5, reachable in 2 but protected by a lake, Woods was forced to get a birdie to enter the playoffs. Hello Birdie analyzes the evolution of the strategy of the Californian champion during that hole: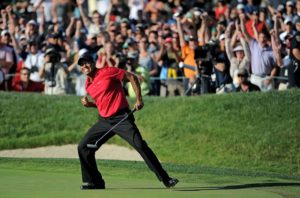 Crédit: Louis Lopez/Cal Sport Media/Cameleon/ABACAPRESS.COM
From the tee, Tiger opted for a much more aggressive strategy than his game of the day. He accelerated his driver's stroke to let himself a short second iron shot to reach the green in 2 strokes. His first shot ended up on the right side in a fairway bunker. Statistically, this shot had only 16% chance of ending up in the obstacle. Clearly, the hole's opening was too aggressive.
With the green still far away, he opted for a new strategy and decided to play an iron to target the fairway and not to attack the green. Indeed, from his bunker position, his percentage of success of hitting the green was only 20%, compared to 40% of falling into the water and saying goodbye to the title. That's why the tiger picked the wisest option by refocusing and giving himself a 94% chance of hitting the green on the third shot. However, his shot stayed on the right side in the rough.

Even if Woods was upset by this result, he made the right decision to stay in the race.
At that moment Tiger was still having playoff in his hands. His approach was more than delicate. His famous caddy, Steve Williams, did anticipate that Tiger Woods would hit harder under the adrenaline. So he handed him a more open club: a 56°. This was complicated because of the density of the rough. However, he didn't make the stats lie and placed his ball on the green, 4 to 5 yards away from the hole.
After taking his time to gather all the various putting information, he stood up, took a last breath and without even knowing it, played one of the most legendary putts. A simple putt down mid-distance with a left-right side slope would become a symbol for the whole golfing world.
The rest belongs to the history of golf, and especially to Tiger Woods' trophies.